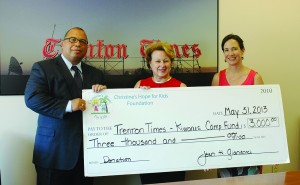 Christine's Hope for Kids contributes $3,000 to Camp Fund
By Laurie Pellichero
For The Times
The Christine's Hope for Kids Foundation has donated $3,000 to the 2013 Times-Kiwanis Camp Fund.
This is the fourth year in a row that the foundation has supported the annual Times-Kiwanis Camp Fund campaign, for a total contribution of $13,000.
Christine's Hope for Kids was founded by John and Jean Gianacaci of Hopewell Township to celebrate the life and continue the work of their daughter, Christine. In January 2010, Christine was in Haiti with a team from Lynn University of Florida on a mission to help children and the poor. When an earthquake struck, Christine was killed. Today, her caring and compassion lives on through the foundation, which honors Christine's generous spirit and her love for children.
The mission of the Christine's Hope for Kids Foundation is to help less fortunate children and to support local community agencies that work with and benefit children. It wants to help give kids the chance to just be kids.
The foundation also wants to teach and communicate the idea that every person can make a difference each day by helping others and being kind.
"We thank the Christine's Hope for Kids Foundation for its ongoing support of the Times-Kiwanis Camp Fund," said Alex Treece, president of the Kiwanis Club of Trenton and Times-Kiwanis Camp Fund Chairman. "Their generous donation will again make an enormous impact in providing positive camping experiences for needy children in the greater Mercer County area."
"It gives us great pleasure to support the Times-Kiwanis Camp Fund," said John and Jean Gianacaci. "The ability to provide funding to your organization which provides summer camp opportunities for underprivileged kids in our local community is exactly fulfilling the mission of our foundation."
Since its inception in 2010, Christine's Hope for Kids has gifted about $275,000 and helped thousands of children.
Go to www.christineshope.org for more information about the foundation and its many programs to help local youths.
The Times-Kiwanis Camp Fund, now in its 58th year, launched last Sunday with the goal of raising $25,000 to help send area children with financial or special needs to summer camp.
The Trenton College Club has pledged to match the first $5,000 raised by the community, challenging readers to be generous in donating to this year's campaign. $3,125 has been raised to date, leaving $1,875 still needed to meet the challenge.
Recent donations also include a gift of $100 from an anonymous donor from Trenton and $25 from Elaine Conti of Hamilton.
Heartfelt thanks to these benefactors.

Please join The Times, Kiwanis Club of Trenton and the community in making a difference in a child's life. Make your check, in any amount, payable to Times Charities Inc. and send it to The Times-Kiwanis Camp Fund, 413 River View Plaza, Trenton, NJ, 08611.

All gifts will be acknowledged in The Times. Anonymity will be granted if requested.