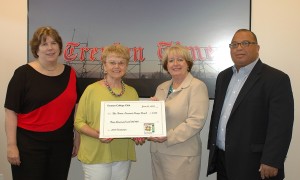 Times-Kiwanis Camp Fund tops Trenton College Club challenge
By Laurie Pellichero
For The Times
For the seventh year in a row, The Trenton College Club, a branch of the American Association of University Women, challenged Times readers to be generous in donating to the Times-Kiwanis Camp Fund. The club pledged to match the first $5,000 raised by this year's campaign, which proved to be a strong incentive.
The community has responded, and $5,710 has been raised to help send area children with financial or special needs to summer camp.
That brings this year's total to $10,710 to date with the Trenton College Club match.
The goal of the 2013 Times-Kiwanis Camp Fund campaign is to raise $25,000 to help provide positive camping experiences for local youngsters in need.
"The Trenton College Club is once again very pleased to match $5,000 in donations from local supporters of the Times-Kiwanis Camp Fund," said Anne Raughley, president of the Trenton College Club. "The College Club fully supports the Camp Fund program in its mission to make the summer camp experience available to underprivileged youngsters within our community."
The Trenton College Club, which is dedicated to advancing equality for women through advocacy, education, philanthropy and research, also supports nonprofit service organizations in Mercer County.
Sheila Gallagher-Montone, publisher and advertising director of The Times, said, "Many thanks to the Trenton College Club for its ongoing support of the Camp Fund and $36,100 in donations over the past eight years. Thanks also to all those who responded to the challenge and continue their generous support of the Times-Kiwanis Camp Fund."
Recent contributions include $500 from an anonymous benefactor from Trenton with a note, "This donation is in memory of my dear father, Walter, a Trenton Kiwanian, who was a generous supporter of all their charitable activities. Thanks for all your efforts on behalf of the children of Trenton."
The Rosen family of Bordentown sent a gift of $250.
Sending $100 each were Jose and Brenda Miranda of Hamilton and Jean Gardner of Titusville.
Sending $50 each were Judy and Tory Watkins of Hightstown, Claudia and Andy Link of Lawrence, Jim and Ron of Browns Mills and Michelle Gasparian of Ewing.
Elizabeth Stark of Bordentown sent $40.
Gifts of $25 each were received from Alice Haines of Ewing and Barbara Smith of Yardley, Pa.
Anonymous donations include $100 from Hamilton; $50 from Pennington; $25 from Trenton; $25 from Trenton with a note, "Keep up the excellent job that you have been doing all these years"; and $20 from Trenton.
With the help of the Times-Kiwanis Camp Fund, now in its 58th year, participating youngsters referred through public and private agencies have been able to attend camps including those run by the Boy Scouts, Girl Scouts, YMCA, Family Guidance Center, HomeFront, The Arc Mercer, the Westside Community Center and Trenton YMCA.
Please join The Times, Kiwanis Club of Trenton and the community in making a difference in a child's life. Make your check, in any amount, payable to Times Charities Inc. and send it to The Times-Kiwanis Camp Fund, 413 River View Plaza, Trenton, NJ 08611.
All gifts will be acknowledged in The Times. Anonymity will be granted if requested.